It is no exaggeration to say that billboards and point of purchase are a very effective marketing strategy – facilitating brands to create a certain impression on customers. Graphic solutions from Avery Dennison have long been recognised by their quality and durability over time. So what makes an outstanding, eye-catching sign? Let's find out in the following article.
The first and most important requirement of a light box material is the transparency, which still displays the image and information on the signboard when the light passes through, making it an effective advertising method during the night.
The material that can guarantee the above requirements are Hiflex canvas printing, specialized for printing light box.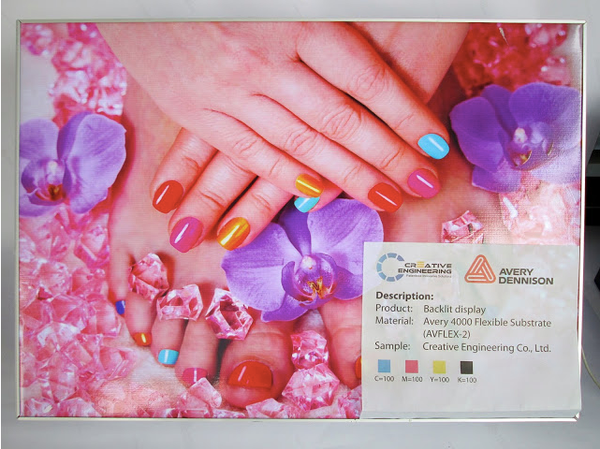 Hi-Flex canvas for light box
ABOUT HI-FLEX MATERIAL
The screen is made of soft plastic (also known as PVC). It is made of white plastic, with a central fabric covered with a thin layer of PVC, which explains why the Hiflex canvas is durable and tough.
See also: Hi-Flex canvas for advertising light box
APPLICATION OF HI-FLEX PRINTING  
  – Decal sticker on hard lightbox, with lights inside.
  – Decal graphics in matte on glass, window, glass door.
  – The hiflex canvas covered with a signet board  
  – Decal light board / logo light box
AV4000 lights up TPBank
ADVANTAGE OF HIFLEX PRINTING  
  – Anti color and weather resistant, UV resistant
  – Wide range in terms of durability, from 2 years to 7 years
  – Sturdy
  – Good print quality
HIFLEX PRINTING TECHNOLOGY
Inkjet technology: Ink is sprayed onto the surface of Hiflex canvas, images, which helps information to be displayed beautiful and clear due to high resolution from 720 to 1200 pdi.
ENDING
Creative Engineering is the official distributor of Avery Dennison in Southeast Asia. We distribute white or color decal, bright light mica stickers, brand logo, bright lighted tarpaulins, backlit light box with imported materials from Avery in the US.
Currently available in large quantity with 2 common sizes: 3m x 50m hiflex canvas and 5m x 50m hiflex canvas.