Ever get confused about which threadlocker to use? Do you know what the differences are between the red, blue, green and purple threadlocker? In this article, Creative Engineering, as the representative of Henkel in Vietnam and Asia, will be answering these questions for you.
Henkel – Loctite products are available in many different grades to cater to a broad array of applications, from auto maintenance and boat maintenance to a wide range of household product repair. These different grades are color-coded to help you distinguish one threadlocker from another.
The color refers to the actual substance, but all the bottles are red in color. The red bottle is actually a LOCTITE® trademark. It's what visually distinguishes LOCTITE® threadlockers from any other brand.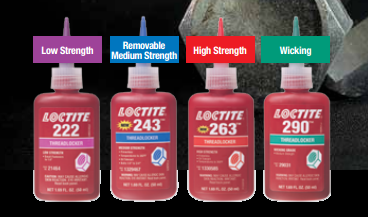 Loctite Threadlockers
LOCTITE® Red Threadlocker
LOCTITE® Red Threadlocker is the highest strength. This product cures fully in 24 hours and is available in both a liquid and as a semisolid anaerobic. The red products are so powerful that they require heat to be disassembled. A primerless grade red threadlocker is also available.
LOCTITE® Blue Threadlocker
LOCTITE® Blue Threadlocker is medium strength. Again this product cures fully in 24 hours and can be disassembled with hand tools. In addition to being available in a liquid and a semisolid, there is also LOCTITE® QuickTape 249™ Threadlocker; the one and only of its kind globally. A primerless grade blue threadlocker is available as well.
LOCTITE® Green Threadlocker
LOCTITE® Green Threadlocker is recommended for locking preassembled fasteners, e.g. electrical connectors and set screws. The product is categorized as medium-to-high-strength for wicking. It is also available in a liquid form, cures in 24 hours and can be removed with heat and hand tools.
LOCTITE® Purple Threadlocker
LOCTITE® Purple Threadlocker, also known as LOCTITE® 222™, has become one of our most successful products. LOCTITE® 222™ cures in 24 hours. It can also be used on low-strength metals such as aluminum and brass. This offers a lot of flexibility to the user.
All LOCTITE® Threadlockers
Alll LOCTITE® Threadlockers have a broad temperature resistance of -65°F to 300°F, some going up to as high as 650°F. Threadlockers were LOCTITE®'s first product line. They combine a mix of complex chemistry and engineering. Simply put, this product is an anaerobic adhesive applied by drops to the threads of fasteners. It then cures to a hard thermoset plastic that locks the threads together. They are used only for metal-to-metal applications.
Creative Engineering has been the official distributor of Henkel for decades. We provide all Loctite products as well as other brands of Henkel such as Technomelt, Bergquist, Aquence, Teroson, Bonderite,…
See more: Henkel and its brands