As laptops continue to be thinner and lighter with more outstanding capabilities, it is imperative to have a thin bondline thermal interface material with outstanding heat dissipation. Henkel – the world's famous industrial adhesive brand – has a separate product line for thermal adhesives – Bergquist. Find out the five best thermal solutions for laptops in the Henkel Gap Pads and Gap Filler series in the following article.
1. GAP PAD VO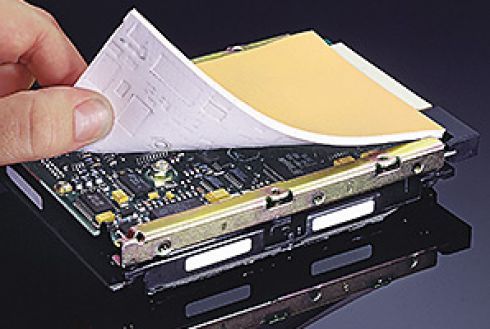 GAP PAD VO is a cost effective thermal interface. The material used is a thermally conductive polymer on a rubberized glass fiber, allowing for easy material handling. The proper nature of the GAP PAD VO allows it to fill the gaps between PC boards, helping to heat the metal frame.
2. GAP PAD 1000SF
The new GAP PAD 1000SF is an insulating, non-silicone polymer designed specifically for silicon-sensitive applications. This material is ideal for applications with high tolerances and flat tolerances. GAP PAD 1000SF is reinforced for easy material handling and durability when assembled. Materials are available with protective linings on both sides of the material. The upper side has been reduced to a small nail for ease of processing.
3. GAP PAD VO Ultra Soft
GAP PAD VO Ultra Soft is recommended for applications requiring minimal pressure on components. The material's viscosity also provides excellent shock absorption ability Gap Pad VO Ultra Soft is an insulating material that allows use in applications requiring isolation between radiators and high voltage ceiling devices.
4. GAP FILLER 3500S35
GAP FILLER 3500S35 is a leading technology in liquid insulation, heat conduction, extreme thermal efficiency. This is a 2-component glue, dry at room temperature or high temperature. Prior to maintenance, the material retains good thixotropic properties as well as low viscosity. As a result, a liquid gel material is designed to fill the gap and the air gap is still flowing when impacted by an external force (eg, distribution or assembly process). This material is an excellent solution for bonding components stacked onto a radiator or heat sink. GAP FILLER 3500S35 will adhere to the surface, thus improving contact with surface area.
5. GAP FILLER 3500LV
GAP FILLER 3500LV is a two component insulating material with high thermal conductivity. It dries at room temperature and will dry faster if added extra heat. When dry, the GAP FILLER 3500LV provides a soft, in situ elastic, ideal for fragile surfaces or for filling up complex air vents.
WHERE TO BY THE BEST THERMAL ADHESIVES FOR LAPTOP?
At present, Creative Engineering supplies all Henkel – Bergquist thermal adhesives. Contact us to be the best product consultant for your needs.