Araldite 2011 is a multipurpose, high strength, viscous, epoxy adhesive. This versatile paste has the capabilities to bond a wide variety of materials including metals, ceramics, plastics, glass, rubber and most other materials. It has good resistance to dynamic loading and it provides a long working life. Once thoroughly mixed together, it leaves a pale yellow colored paste adhesive.
Araldite 2011 epoxy is a two part, multipurpose, electrically insulating, structural epoxy adhesive. This advanced material cures at temperatures from 20 to 180 degrees Celsius with no release of unstable components. It has a variety of capabilities being versatile for the craftsman as well for most industrial applications.  The shear and peel strengths of this compound is high with excellent resistance to static.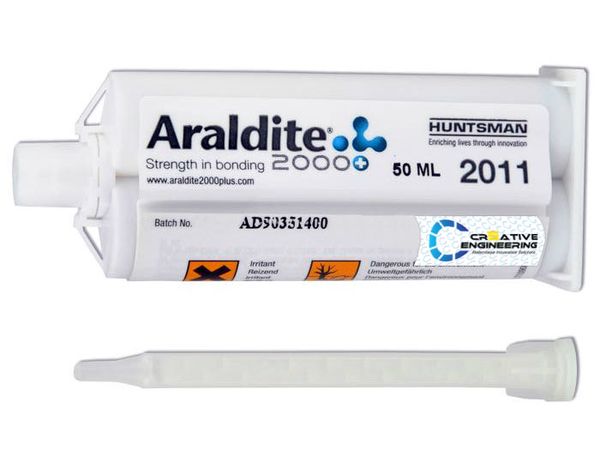 Araldite 2011 – Multipurpose Epoxy Adhesives
The strength and the durability of this engineered product are dependent on what is being bonded and how well the surface has been prepared. All grease, dirt and oil need to be removed before applying this epoxy material. It can be applied manually using a spatula or robotically to dry pretreated joints. All tools should be washed with hot water and soap before the adhesive has time to set. For the greatest lap shear strength, it is recommended to have a layer of adhesive .05 to .10 mm thick. As soon as the Araldite 2011 is applied, the joints should be immediately assembled and clamped allowing the proper cure.
It is of utmost importance to understand the proper application methods and dangers of using Araldite 2011 epoxy. This product should be tightly sealed in their original containers and stored in a dry location at temperatures of 16-38 degrees Celsius. When mixing, the epoxy adhesives temperature should be above 18 degrees Celsius. Following the recommended temperatures and storage conditions, this material will have a shelf life of 12 months from the date it is shipped out from Huntsman.
Huntsman Araldite 2011 Structural Epoxy Adhesive is manufactured with some of the highest quality materials provided in the industry, meeting the demands and expectations of customers worldwide. Huntsman is recognized as a global leader in providing high quality structural epoxy adhesives for a variety of applications.
Creative Engineering takes pride in being a reliable partner – distributor of Huntsman in Vietnam and Asia. Contact us to further upgrade your business!