The Graco e-Xtreme Electric Airless Sprayer is the world's first electric sprayer for protective coatings approved for hazardous locations. The e-Xtreme operates on a more reliable, convenient and available electric power source, which improves jobsite inefficiencies associated with compressors. If your air compressor goes down, you no longer have to stop production. More so, electric technology eliminates pulsation and motor icing, making your jobs run smoothly – every time!
Learn Why the e-Xtreme Sprayer is Your Electric Solution for Spraying Protective Coatings: 
FEATURES:
   –  Electric: Electric power is safe, reliable, and convenient
   –  No Icing: No air motor = no more icing issues
   –  Reduced Noise: Significantly quieter when compared to an air motor
   –  Plug-in & Spray: 240V/16A power ensures smooth, low-pulsation spraying
   –  Hazardous Location Approved: ATEX, IECEx, and Class 1, Div. 1 approvals*
   –  Energy Savings: Saves up to 80% of energy costs when compared to an air operated sprayer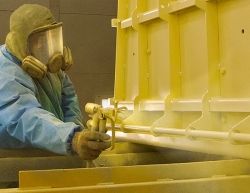 e-Xtreme Electric Airless Sprayer for Protective Coatings
APPLICATIONS:
   –  Chemical plants
   –  In-plant paint shops
   –  Marine
   –  Metal fabrication
   –  Rail
   –  Refineries & off-shore
   –  Storage tanks
   –  Structural steel
   –  Water and wastewater coatings
Creative Engineering is the representative of Graco in Vietnam and Asia. Contact us for the right solution for your factories!