In early 2013, Creative Engineering Malaysia (Creative Enchitect) applied Nukote's qualified coating applications to assist  the design and approval process for a chemical resistance coating system in the power station.
The Manjung 4 power station is expected to be the first ultra-supercritical power plant in Southeast Asia when it is completed in 2015. The 1000 MW coal-fired power station is being constructed under a turnkey contract by a consortium led by the original equipment manufacturer Alstom, in partnership with China Machinery Import and Export Corporation (CMC). The contract was signed with TNB Janamanjung Sdn Bhd, a wholly- owned subsidiary of Tenaga Nasional Berhad, the large state-owned utility.
Manjung 4 will be built on the same site as an existing power station, the three-unit, 2100 MW Manjung Power Plant, which was also constructed by Alstom and began delivering power in 2003. Located in the Manjung municipality the plant is built on a reclaimed island off the western coast of the state of Perak, around 10 km south of Lumut and 288 km north of Kuala Lumpur. The island is also home to the Lekir coal terminal, where coal to power the existing Manjung plant is imported. This terminal will also supply the fuel for Manjung 4.
Creative Enchitect, as part of NUKOTE Industries Coating Systems, became involved with the project in early 2013 at the request of Mudajaya Corporation Bhd and Shandong Electric Power Construction Corporation (SEPCO II). NUKOTE Industries Coating Systems worked closely with the consultants and engineers to successfully specify the following coating systems which were later supplied and installed in the project by Nukote's qualified coating applicators. The following applications and their product specifications were as follows:
   1.  Internal Painting of Water Tank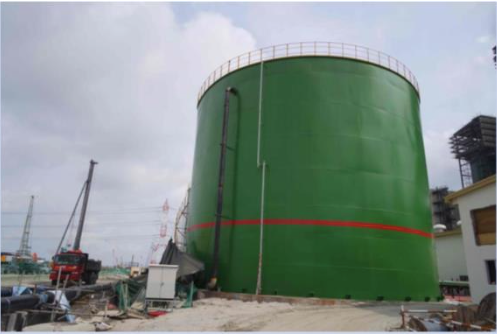 The external surface of the steel tank
The internal surface of the steel tank that is applied Polyurea
   2.  Cycle Makeup Treatment Plant
   3.  Industrial Wastewater Treatment Plant
Nukote Industries Coating Systems polyurea products were selected and specified by Mudajaya Corporation Berhad as the protective coating system of choice for the Manjung 4 Power Plant at Manjung Perak. Mudajaya Corporation Berhad engaged with Nukote Industries technical teams to prepare the application method statements, quality assurance, inspection and test plans for the chemical coating as specified.
Application of Nukote Product on Industrial Wastewater Treatment Plant
Industrial Wastewater Treatment Plant
   4.  TH-Chemical Storage Area
Nukote Industries Coating System worked closely with Alstom to specify the suitable application / coating for Chemical Storage Area
Chemical Storage Area
Chemical Storage Area